St. Francis of Assisi Anglican Church
Celebrating Faith, Contributing to Life
in our community for over 40 years!
Meadowvale West Church Centre
6945 Meadowvale Town Centre Circle,
Mississauga, Ontario L5N 2W7 Canada
Telephone: 905-821-2752
Click here for a map to our location: Church location map


Join us for worship on Sundays
8:30AM Said Eucharist
10:00AM Choral Eucharist

Destination St. Francis
It's Where You Want To Be!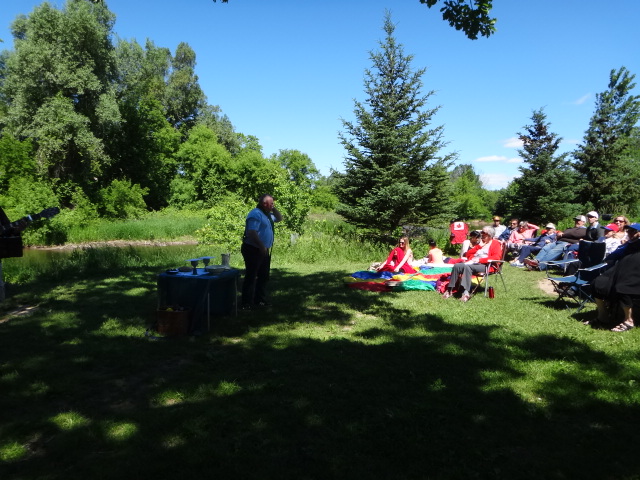 Weekly Events


Line Dancing
Monday mornings 11AM- noon, $5 per person

Wednesday Morning Communion and Prayers 10AM

Spanish Classes
Wednesday mornings 10-11:30AM, $5 per person
Thursday evenings 7-8:30PM, $5 per person

Yoga
Wednesday mornings 10AM - 11:30, $5 per person

Choir Practice
Thursday evenings 7:30 - 9PM
Everyone welcome to come and make a joyful noise

Eden Fresh Food Box
Friday afternoons 4:00 - 6PM
Place orders on Thursday by phoning (905) 785-3651

Youth Group
Every other Friday evening 6:30 - 8:30PM
Bring a toonie for supper. All youth, ten and up are welcome



Mission Statement:
Together we are walking with our Lord and celebrating the spirit of St. Francis on a journey of worship, service, fellowship and peace.

Motto:
Make me a channel of your peace

To read more about the St. Francis of Assisi Meadowvale mission statement, motto and the background history behind the development of it, please refer to the Parish History page.

Congratulations to Lori Johnson on becoming a Member of the Order of the Diocese of Toronto
Link to an article in The Anglican

2014 Anniversary Events
Link to albums of special events

2014 Baobab Blast Vacation Bible School
Link to photos

2014 Church Picnic
Link to photos

2013 Medieval Feast of St. Francis
Link to photos

2013 Church Picnic
Link to photos

2013 Vacation Bible School: Hero Quest
Link to photos
Link to Snap North Mississauga's visit
Link to Ward 9 Councillor Pat Saito's visit



2013 Was an Eventful Year!
Read all about it in our Special Edition Franciscan!


Upcoming Special Events:

First Sunday of Advent
November 27th

ACW at Vana Boghossian's home
November 28th

Heritage Glen Service
December 8th

ACW Christmas Pot Luck at Jennifer Clarke's home
December 12th

Christmas Pageant
December 18th

ACW Bake Sale
December 18th

Family Christmas Eve Eucharist
December 24th 5:30 PM

Christmas Eve Candlelight Eucharist
December 24th 11:00 PM

Christmas Day Service
December 25th 10:00 AM