The Anglican Parish of St. Francis of Assisi
Meadowvale West Church Centre
6945 Meadowvale Town Centre Circle
Mississauga, Ontario L5N 2W7
Incumbent: Rev. Jeff Brown
Telephone: 905-821-2752 (Church)

Email address: St. Francis Communications Team
Where is the church?
St. Francis of Assisi parish is part of the Meadowvale West Church Centre, located at 6945 Meadowvale Town Centre Circle, Mississauga, Ontario L5N 2W7, beside the Meadowvale Town Centre bus loop.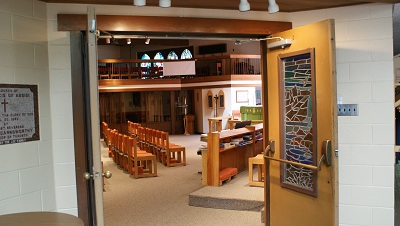 Entranceway to St. Francis of Assisi Anglican Church - Welcome!
What is the Church Centre?
It is a single building consisting of separate worship and Christian education areas for each of the congregations: White Oak Presbyterian, and St. Francis of Assisi Anglican. The Anglican portion has a 200-seat worship area and a large Christian education area which is adaptable for other community functions. Common areas such as offices, and maintenance costs, are shared by all congregations. The Centre is owned and operated by a legal corporation (M.W.C.C. Corp.), which holds title to all land and buildings in trust for each congregation. It functions through a Board of directors, whose members are drawn from the congregations of the participating churches.
The broadest possible use is made of the Church Centre building, so that it not only serves the congregations but becomes a focal point of our Christian Community activities. The Centre is booked daily for a variety of church, community and cultural activities, including Scouts and Guides, exercise classes, a community nursery school, choir and many others.
While the Church Centre building does not altogether meet traditional expectations of church architecture, the Church Centre concept has proven to be very functional, efficient and successful. Our emphasis has always been to develop a foundation of people, not of bricks and mortar.
What does the Church offer you?
The Church offers you a wide variety of opportunities for worship, education, and service, and the fellowship of an enthusiastic and friendly parish, whose members come from all ages and a range of social and cultural backgrounds. With the Church Centre concept, these opportunities extend to involvement with the other Centre congregations, with whom we share such activities as study groups, youth programs, occasional joint worship services, social events and more.
What can you offer the Church?
See the review of our parish organizations/groups. Please go to our Groups area of the St. Francis website. There is a place for you.
---