St. Francis of Assisi-Meadowvale
Parish History
---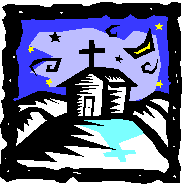 A Brief History of the Parish of St. Francis of Assisi (Meadowvale)
The history of the parish of St. Francis of Assisi (Meadowvale) goes back almost as far as Meadowvale itself. In 1974, with fewer than 300 homes occupied, the Bishop of Toronto, the Right Reverend Lewis Garnsworthy, appointed the Reverend Andrew Hutchison pastor of the newest parish in the diocese, and in January, 1976 the new Parish of St. Francis was constituted. A number of other Christian churches in the Meadowvale area warmly extended the use of their facilities to the newcomer, and until 1980, the parish led the same sort of nomadic existence as their namesake, St. Francis of Assisi, meeting in such locations as the gyms at St. Richard's Separate School and St. Elizabeth Seton Separate School.
Despite the open hands of our fellow Christians, it soon became apparent that St. Francis needed its own permanent facilities if it was to keep up with the burgeoning Anglican population in Meadowvale, and in 1978, together with our future Church Centre partners, it was decided to build the Meadowvale West Church Centre. Construction began in the fall of 1979 and in March of 1980, the new building was dedicated to the worship and glory of Christ.
Since the earliest days of St. Francis, our priorities have been worship, education and outreach. In the area of outreach, we have lent a helping hand in such community organizations as the Meadowvale Residents Association, Cheshire House, the Meadowvale Women's Group, the Lions, and Neighbourlink. Parish organizations such as the Altar Guild, the Sunday School, Sidespeople, Servers, the Baptism Preparation Team, the Prayer Committee and so on promote worship and education, while groups like the Anglican Church Women , the Anglican Church Men and the Youth Group provide opportunities for parishioners to socialize and serve with their fellow Anglicans.
Did you know? ...

How our St. Francis logo came to be? The little monk figure with which we are all so familiar has a number of meanings. The circle at the top represents the eternal God. The two triangles represent the reach of the Triune God toward his people on the one hand, and humanity's reach toward God on the other. The three elements together represent the host and chalice that are at the centre of our life. The whole logo together represents Francis from whom we receive our name, and his communion with nature. The tree of life is also to be seen, with the dove, symbol of God's peace, landing in its branch.
Our logo was first designed for us by the late Sam McCallion, local publisher/printer and longtime layreader at Trinity Church Streetsville (and of course, spouse of our mayor).
St. Francis of Assisi Mission Statement
At a retreat in June 2002, Advisory Board members spent a good deal of time developing a Mission Statement for our church. Our mission statement encapsulates who we are as a parish and our collective goals and aspirations. After discussion and revisions at a follow up meeting, we unveiled the Mission Statement and Motto below:
Mission Statement:
Together we are walking with and celebrating the spirit of St. Francis on a journey of worship, service, fellowship and peace.
Motto:
Make me a channel of your peace
The first word – Together – reminds us that we never walk this road alone. God always walks with us and sends us friends, family, neighbors, colleagues and acquaintances to share our journey.
Our patron saint, St. Francis is an important role model for us. He was called by God to "repair my house, which as you see is falling into ruin." He did this literally by re-building a church and figuratively by beginning his ministry and spreading the Good News to all who would listen. He followed Christ's example of inclusivity by ministering to the poor and outcasts of society and by recognizing all of nature as part of God's magnificent creation. Francis most detested discord and division. Peace, therefore, became his watchword.
As Francis did, we celebrate the Good News of Christ. We worship God, serve our world, our country and our community and strive to be instruments of peace.
But where is the church?
St. Francis of Assisi parish is part of the Meadowvale West Church Centre, located at 6945 Meadowvale Town Centre Circle, Mississauga, Ontario L5N 2W7, which is just southeast of the Meadowvale Town Centre clock tower.
Click here for a map to our location: Church location map
What is the Church Centre?
It is a single building consisting of separate worship and Christian education areas for each of the three congregations: White Oak Presbyterian, St. Francis of Assisi Anglican, and Meadowvale Lutheran. The Anglican portion has a 200-seat worship area and a large Christian education area which is adaptable for other community functions. Common areas such as offices, and maintenance costs, are shared by all three congregations. The Centre is owned and operated by a legal corporation (M.W.C.C. Corp.), which holds title to all land and buildings in trust for each congregation. It functions through a Board of directors, whose members are drawn from the congregations of the three participating churches.
The broadest possible use is made of the Church Centre building, so that it not only serves the three congregations but becomes a focal point of our Christian Community activities. The Centre is booked daily for a variety of church, community and cultural activities, including Scouts and Guides, exercise classes, a community nursery school, choir and many others.
While the Church Centre building does not altogether meet traditional expectations of church architecture, the Church Centre concept has proven to be very functional, efficient and successful. Our emphasis has always been to develop a foundation of people, not of bricks and mortar.
What does the Church offer you?
The Church offers you a wide variety of opportunities for worship, education, and service, and the fellowship of an enthusiastic and friendly parish, whose members come from all ages and a range of social and cultural backgrounds. With the Church Centre concept, these opportunities extend to involvement with the other Centre congregations, with whom we share such activities as study groups, youth programs, occasional joint worship services, social events and more.
What can you offer the Church?
See the review of our parish organizations/groups. Please go to our Groups area of the St. Francis website. There is a place for you.